InternationalCupid Review In a Nutshell
In recent years, InternationalCupid has become one of the premium dating platforms across the world. It has gathered several millions of singles who want to find international relationships. This service is a part of one of the most popular networks Cupid Media. Moreover, it is not a simple dating site very you can find someone for eternal love. It connects people from different cultures and also makes them friends.
Other Popular Dating Sites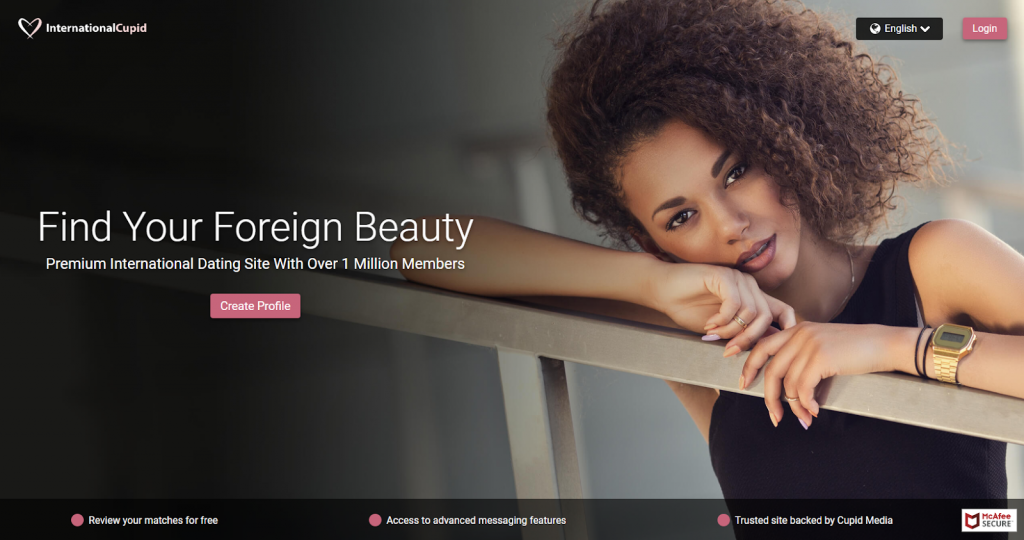 Pros And Cons
Pros
Convenient translation tool allows communicate with any members;
The comfortable design of the website helps not to get lost;
Validation of members guarantees the safety of the service;
Search and Matches features show large profile photos;
Free members can write to users with paid membership.
Cons
The mobile application does not support iPhones;
It is not possible to freely communicate with everyone;
In order to receive messages you need to buy a subscription;
Empty profiles and fake people.
InternationalCupid Review At a Glance
Easy To Use 4
Profile Quality 3.5
Mobile Application 3.0
InternationalCupid.com Reviews 3.5
Communication Possibilities 4.0
What Is InternationalCupid.com?
InternationaCupid.com is a website where people from different countries can get in touch with the same internet users. It connects members from the entire world which can greatly improve the unity of humanity. Maybe it is a bit exaggerated but it definably helps to cope with discrimination. This service welcomes everyone regardless of skin color, origin, language, religion, age, political views, etc. With more than ten years of existence, it has gained a valuable experience to help single people become happy and to protect them.
How Does InternationalCupid Work?
In order to start international dating firstly, you need to sing up for this service. When it is done, you can start gaining experience with your Standard membership. It is limited in features but at least you can send messages to some members, but you need to behave properly. InternationalCupid has a management team that monitors conversations between members. Any kind of rudeness, violent speech, discrimination, threatening, etc. are forbidden. If you have noticed something like that or any other suspicious behavior you can always report to the customer support department.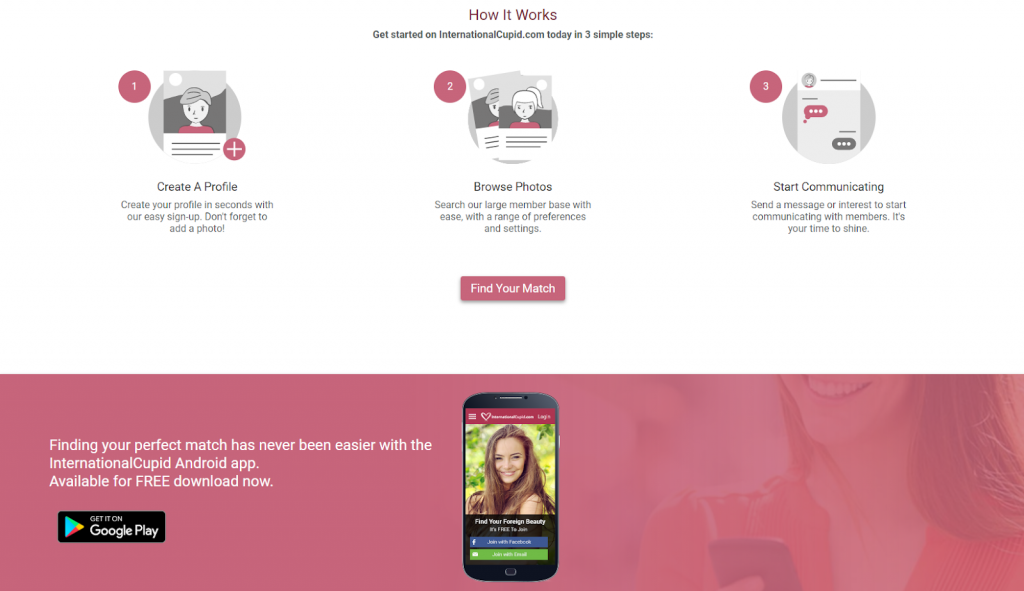 Signing Up
The sign-up process does not take much time. You need to provide such information as your name, age, sex, who you are looking for an email with a password. Alternatively, you can skip that using your Facebook account. Such registration is simpler and partially fills your profile with information. InternationalCupid guarantees that they will not send any posts or notification to your page. After that, do not forget to check your email as you will receive a letter with member verification.
Visit Site
Visit Site
Visit Site
Search & Profile Quality
Service offers you two options on how to search for your love. The first one is to use a standard search tool with several filters. It is convenient to look for members from a specific country. Otherwise, there is another option. You can use a Matches tool. It shows pictures of members for you to like them or not. When two people like each other, they start the conversation.
Profile quality plays an important role in the rating of every dating service. That is why InternationalCupid.com encourages its members to fill profiles properly. As a result, most of them have more than one photo and some personality descriptions.
Is InternationalCupid Safe?
InternationalCupid.com has some experience on how to protect internet users. SSL encryption code protects all your personal information from leaking to third parties. On another side member, the validation system allows decreasing the number of empty and fake profiles. Management team checks conversations to find scammers and delete them from the dating platform.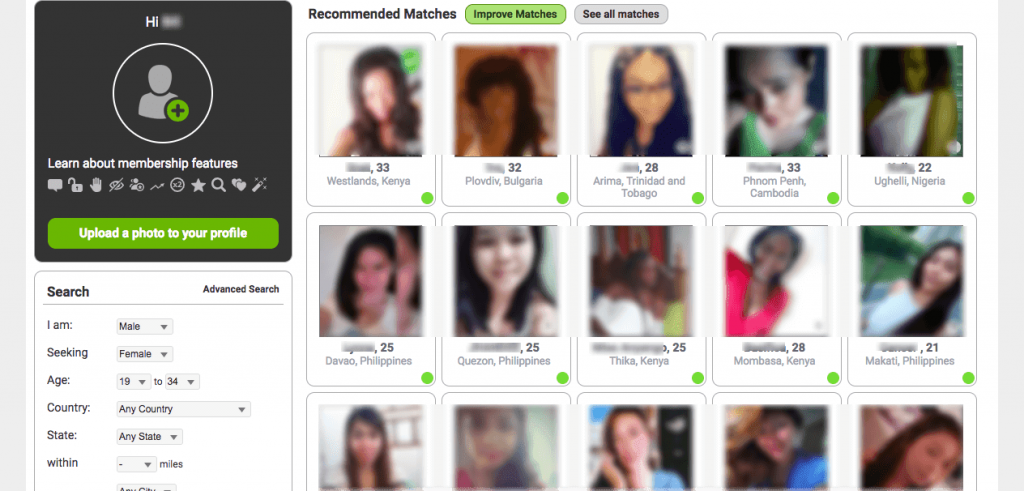 Help & Support
It is true that not every online dating service provides a phone number. At InternationalCupid you can find it on the Contact Us page. If it is something not urgent you can always check the FAQ section that may have valuable instruction for you. Alternatively, you can always create a ticket by filling the appropriate form and sending it to the customer support department.
Prices & Plans
International dating has to be convenient and safe. In order to guarantee a wonderful experience of meeting people from other countries, InternationalCupid has developed various features. However, you cannot use most of them for free. Right after the registration, you obtain Standard membership which is free and includes:
Free of charge sing up;
Possibility to use only standard search tool with simple filters;
Browsing member profiles and see their photos;
Sending messages to members with Gold and Platinum subscription plans.
The next membership that can provide you with a better online dating experience is Gold. You can choose any of three subscription plans, however, buying the longest one saves more money. For a 1-month plan, you will pay $34.99, for 3 months plan of $69.98 and for 12 months $139.99. Gold membership obviously includes all above-mentioned possibilities and the following features like:
Sending messages to members regardless of subscription;
Use live chat room with instant messages;
Receiving messages and notification who has visited your profile;
Get rid of annoying ads;
Become anonymous while searching and visiting profiles;
Hide profile from other members.
If you still do not feel yourself free in communication with members from across the world you can get Platinum membership. It can make you a VIP member of InternationalCupid and give you even more features. However, you need to understand that these subscription plans are more expensive than previous. For 1 month plan, you will have to pay $39.99, for 3 months $79.98 and for 12 months $159.99. For some people it is not a great difference and, but it is expensive. Platinum membership grants you with
Ability to appear higher in the searches of other members;
More memory space for your account;
A VIP badge that highlights your profile;
An advanced search tool that has much more filters and options to set;
A better algorithm in Matches tool to find a person that suits your personality description and expectations;
Translation tool that can translate your instant messages into language.
You need to understand that it is not cheap to get these subscriptions and after using, you will not be able to get a refund. That is why it is better to read InternationalCupid dating site reviews of real people, who have already tried this service.
Conclusion
InternationalCupid.com is a service with some strong and weak sides, but it actually connects people from different countries. For online relationships, proper communication is vital. That is why it is all up to you whether to use this service or not.
FAQs
Yes, InternationalCupid is a legitimate service that is operated by Cupid Media Pty Ltd, a company that specializes in the development of database-driven dating sites
This dating service is not limited by age and welcomes everyone. However, it is true that most members are younger.
InternationalCupid.com does not have an application for iPhones but you can always use a web version from your smartphone. The log in button is on the top right corner of the home page.
Unfortunately, this service does not have such a feature.
In order to remove your account you need to go to Profile Settings, there you will find the Switch Off Profile option.