OkCupid Review In a Nutshell
OkCupid is an online international dating platform where single internet users can find someone from almost any country across the world. For communication, interaction and searching you do not need to pay. It has several different options to pay for, in case you want to boost your chances of finding someone. Its applications for smartphones can be found in the Play Market and App Store.
Other Popular Dating Sites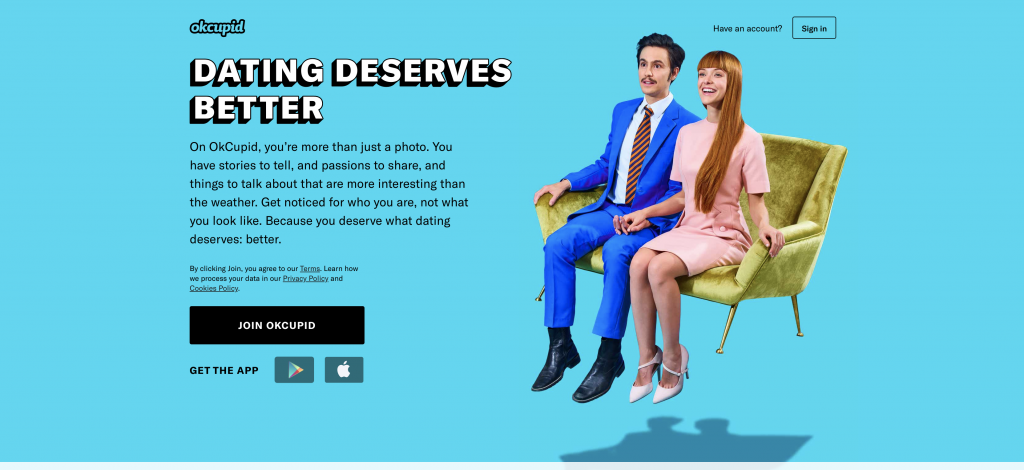 Pros And Cons
Pros
Possibility to communicate with everyone without paying;
A great number of members in the database;
Initial questionnaire to fill the profile with personal info;
Android and iPhone mobile applications;
Simple and convenient design.
Cons
In order to be more noticeable, you need boosts;
The initial questionnaire cannot be skipped;
Difficult to find members from smaller cities;
Fake profiles;
Auto-renewal subscription plans.
OkCupid Review At a Glance
Easy To Use 4.5
Profile Quality 4.0
Mobile Application 4.0
OkCupid.com Reviews 4.0
Communication Possibilities 3.5
What Is OkCupid.com?
OkCupid.com exists since 2001. It has taken only six years for this service to be listed in the top 10 best dating sites in Time Magazine. During all this time, it has not stopped to improve. Nowadays it has more than a hundred million members across the world. This dating website is used both for serious romantic relationships and for casual hookups.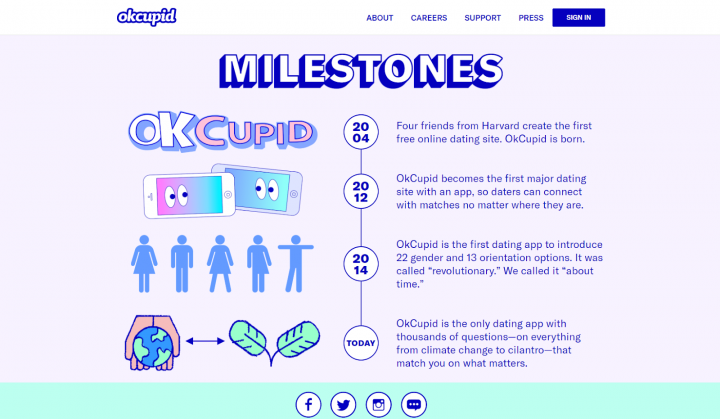 How Does OkCupid Work?
After finishing the registration step, you can start using this service. With free memberships, you actually can do a lot. Browse and search other members. Send and receive messages and likes allow to completely using this matching app for free. In addition, OkCupid.com has become popular due to conversation rules. Everyone can send messages but only when two users will like each other, they will be able to see those messages. It means that you do not have to communicate with members which profiles you do not like. DoubleTake feature allows you to quickly check a great number of people near you and like them.
Visit Site
Visit Site
Visit Site
Registration
The registration process is not so quick but is it rather efficient and simple. In the beginning, you provide email and password. Then you will be asked to provide your age, name, and place of living. After that, an initial questionnaire begins. Firstly, you are asked to upload a photo. Then you need to answer around 15 questions about yourself. You cannot skip the questionnaire but you can skip the question and answer the next one. It may seem annoying but it helps to quickly make your profile look decent and attractive. In addition, you indicate your preferences what further help for OkCupid to find you the most suitable match. Only, when all of that is finished you can start using this service.
Search & Profile Quality
The search tool has multiple different filters you find a person of specific origin from a country. It also helps to find someone who is not far from you. Due to the initial questionnaire, all profiles have very nice descriptions and photos. Additionally, you can see what kind of relationships the person is looking for. It can greatly save your time when you want to find either casual or strong relations.
Is OkCupid Safe?
OkCupid has a free registration which means that any person can sign up. However, the management team contacts suspicious accounts and those who do not add any information about them in order to be sure that they are real. It is not possible to eradicate all fake people. Therefore, it is important to always be cautious while communicating with unknown people.
Help & Support
The Customer Support department of OkCupid.com does not have a phone number. In case of any issues, you need to look for help by yourself in a FAQ section. It is well developed with a large number of different articles. In case you have problems that connected with billing you can send a direct message to them in a special form window.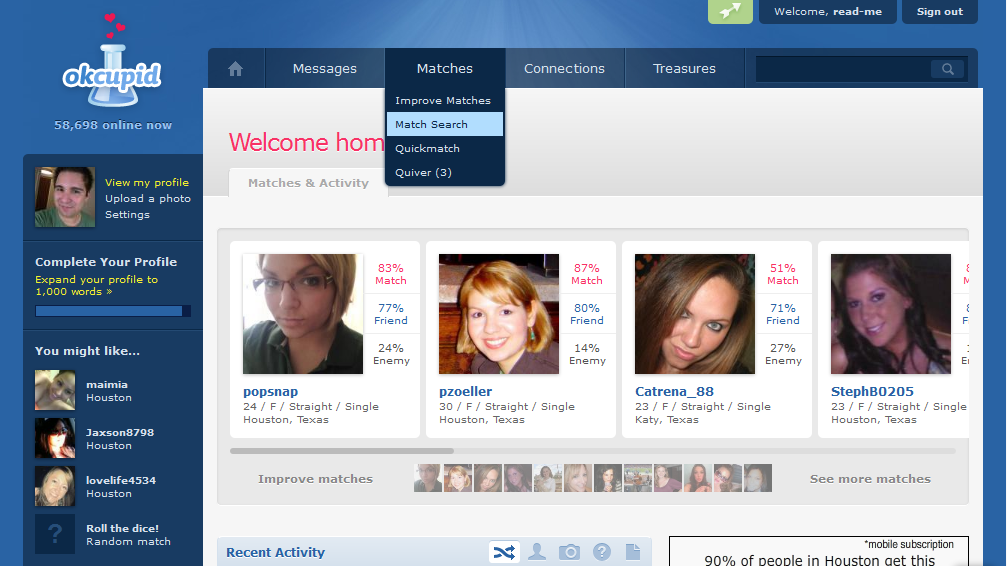 Prices & Plans
Online dating is always a challenge whether you can find a person for relationships or not. Most of the matching services try to make money on you providing possibilities to interact with other single users. OkCupid is different. Right after registration, you have a Standard account that is free and allows you to communicate with others. With this membership, you can enjoy:
Free registration;
See potential matches;
Receive and send interest and likes and get notifications of mutual interest;
Receive and send messages;
Use Standard search tools;
Review profiles of members.
In case it is not enough for you there are several options for how you can boost your chances of meeting someone and improving online dating experience. OkCupid has A-List Basic, A-List Premium and Boost. For A-List Basic you will have to pay $7.95 for 1 month, $19.05 for 3 months and $23.70 for 6 months. It is cheaper than most of the similar services for such duration. With this subscription plans, you will receive:
No advertisements on the website;
Possibility to see members who have liked you without likening them;
No limits for sending likes;
Receive messages from other users;
Use and Advanced search filters;
Ability to see whether your message is read or not.
If the previous subscription is not enough you can get A-List Premium. It has all the above-mentioned features and even more. However, the prices are higher than average. For A-List Premium you will have to pay $24.90 for 1 month, $68.70 for 3 months and $ 119.40 for 6 months. They can grant you with the following features:
Everyday boost during the Premium plan;
Possibility to view members' answers to public questions before answering yourself;
Your account appears higher in searches.
With all these features, you can have a better online dating experience. However, if you want simply boosts your chances of being noticed you can get a Boost. It works one day and their prices are $2.99 for 1 booster, $10.95 for 5 and $18.90 for 10.
Conclusion
OkCupid is enough free dating service that everyone can use. It has features that can increase your chances of finding someone, but buying a subscription plan is not necessary. Profiles descriptions here are real. Therefore, you need to present yourself from the best side and do not afraid of communication. Only by sending messages you can find someone.
FAQs
OkCupid.com is a legitimated service with the main office at IAC, 555 West 18th Street, New York, New York 10011, United States.
This dating service can help you to find someone for casual relationships.
You can find a Sign In button at the top right side of the home page.
At OkCupid, you can register with your Facebook profile. The service guarantees that nothing will be posted to your page. Only some information will be added to your personal dating profile.
In case you want to unmatch an OkCupid member you need to press on three dots near to the profile of that person.