Sometimes, when you are visiting different websites, you see adds of different dating apps and platforms. uDate is one of such websites that are being advertised. It caught my attention and I've decided to give it a try. uDate has a very simple design, you immediately see the panel on the left with different features and space for profiles on the right. The owners claim that it is a website where you can flirt and have fun. Let's see if that's the truth in this Udate.com review.
Other Popular Dating Sites
Pros and Cons
Pros
A clear-cut design;
Free 3-day trial;
Who logged in recently feature.
Cons
Weak verification system;
It doesn't have an app;
The site is not protected;
Difficult to use.
Udate.com at a Glance
Best for: singles looking for fun and casual dating.
The number of members: around 800 thousand.
Recommended age: 25-35.
Favorite features: redirects to different sites.
Visit Site
Visit Site
Visit Site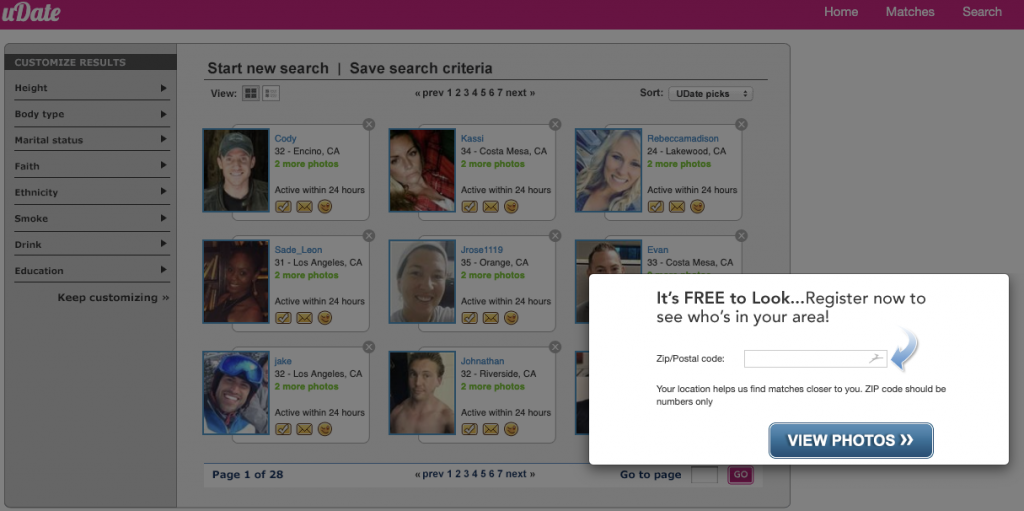 What is uDate
So what is Udate.com? uDate is a dating online platform created for people who don't want serious relationships yet. It can be used by those singles who want to have fun only online, or people can look for matches nearby and meet in person. If someone wants to have fun without meeting in person (only online), there are different flirting features, chatrooms, and you can even use the webcam.
If your goal is to meet partners for casual dating, then you can be price and indicate exactly who you want to meet. For that reason, you can use diverse filters and customize your search. Before you start looking for someone, you need to complete the registration and answer several questions concerning your preferences, what you accept, what behavior you won't tolerate, etc. The site has a very simple design, but it's rather a convenience than a disadvantage.
How Does Udate.com Work
Without completing the registration process on uDate dating site and answering diverse questions about your personality and what you expect from using the site, you won't be allowed to view the profiles of users. But the truth about uDate is that you can't even date on uDate since it's just a website that redirects you to so-called "Official partners of uDate". Whether it is good or bad is up to you to decide, but it might be even convenient.
Depending on the answers of a user, he is getting redirected to a different website. At first, it is annoying, and I'm talking out of the personal experience. You have to spend some time to answer different questions, and first, second or even fifth attempt won't register you on uDate. You will get redirected to such sites like Match.com, BigAndBeautiful, etc. Udate.com reviews found on the internet are about the uDate, so maybe, there is a way to register specifically on uDate. I didn't find the pattern.
But on the bright side, all users always get the site that best suits their preferences and desires. If you are not against dating single parents, you will find the specified site. If you are attracted to people of bigger size, you will be redirected, etc. So the site is like reception and depending on your interests, it sends you where you might find what you need.
That's how uDate works. So if there is a question is uDate good, the answer might be positive since uDate at least redirects you somewhere where you might meet the right person (or partners). You have to complete the registration process again, as well as the standard questionnaire. What is odd is that you still don't get the verification email from uDate – even though you indicate your email, the letter never comes.
The only thing you can hope is that they won't start spamming you with messages since technically, you don't have an account on uDate, and you won't be able to delete it so that the messages will stop. As it was mentioned on the uDate site, you will have a chance to decline the sent messages.
When you complete the registration process on a site, you can upload pictures, customize your profile, and use different features. Depending on the site you use, you can exploit different matchmaking features. There are compatibility tests, different icebreakers, chat rooms, and other things.
Sign Up
If you want to sign up, be prepared for a long process. First, you can't even close that field where you need to insert the answers. You can't close the window to view what the Home page can offer, what are the filters, my profile, etc. You immediately have to focus on registration – the window with the form will pop up during seconds after you click on the link.
You have to create an uDate login (nickname or your first name, which is more preferable), email address, password, etc. Then you need to answer more personal questions, such as whether you are ready to date someone who has kids, what ethnicity you prefer to date.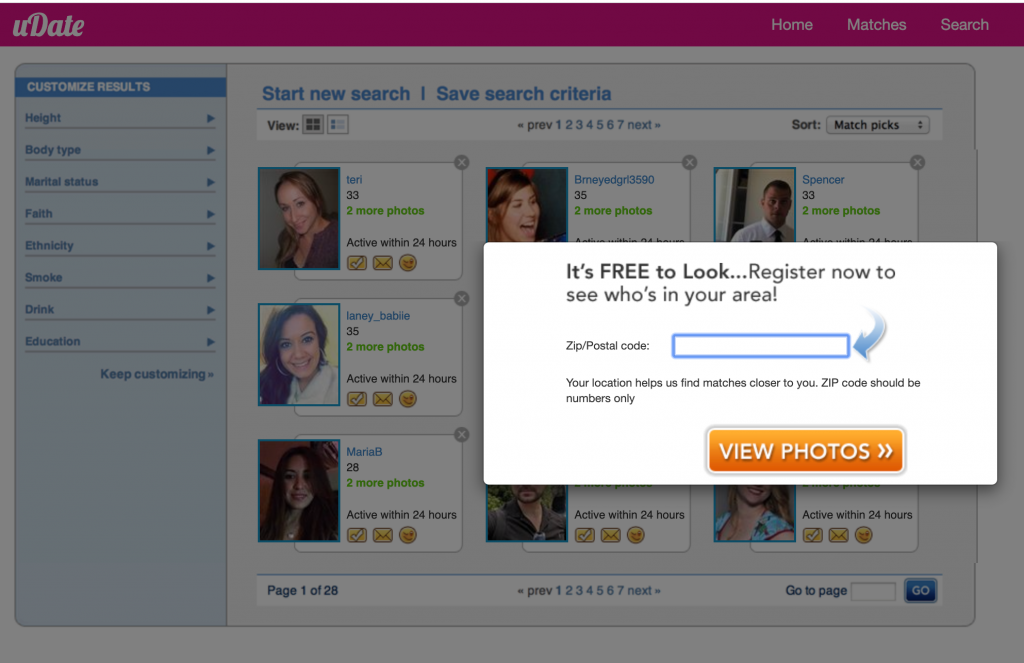 Although when you choose ethnicity, you have to choose only one from the list, which is very inconvenient. Some people would love to explore other options without choosing only one of them. You can choose "other", but that's not the same. And there is one interesting peculiarity – if you choose that you are not against dating someone who has kids, eventually, you will be redirected to another website SingleParentsMeet.
If you choose that you don't want to date single parents, then you have to answer such questions as the preferred religion of your partner, and depending on your answers, you will be redirected to another official partner of uDate. It takes a pretty long while to fill in the information to finally start a review of uDate since each time you get redirected to a different site. What you need to know is that uDate is more like a reception – depending on your answers, you get redirected to a different platform.
Search & Profile Quality
Depending on where you get redirected, you can see different profiles. Most of the websites where you get redirected are legit and of rather good quality, so the profiles look nice and not fake. But be careful, every single dating site has fake profiles. Even the best and the most expensive apps have those fake profiles and trolls. So don't send money, your exact location, financial information, etc.
Profiles are detailed since it is a must to complete your profile with as many details as you can give. Because of the quality of profiles, the matchmaking system and the search is working properly. The core idea is to allow users to pick one answer from different answers made up by the system. Then these answers are compared with the answers of other people and the system sends out recommendations. The search and the matchmaking systems are working properly most of the profiles are detailed.
Depending on where you get redirected from the uDate site, you will see different filters. For instance, if you are redirected to Match.com, the filters are more generalized since it's a mainstream site. if you find yourself on SingleParentsMeet, the filters are completely different. Overall, the search is quite good, but sometimes it gives unexpected results.
Safety
This is the topic of concern since even though you don't use uDate, you use other sites, uDate has no protection. All the data you insert on the site is at potential risk. It doesn't have a protected connection to the Internet and that can only mean that the email address, password, login might be stolen. On the other hand, all the sites to which you get redirected, have required protection systems. So is uDate safe? It's not the safest website. But those other websites are pretty safe.
Help & Support
Depending on which site you will be redirected to, there will be different support. Most likely, the support comes from the owner of all the sites – the company that owns Match.com and other different niche platforms. Support works only during the working days and they have a specified schedule when you can contact them. You will receive an answer from the staff. But you might also view different typical problems and questions that occur so that you might find the answer without contacting the support.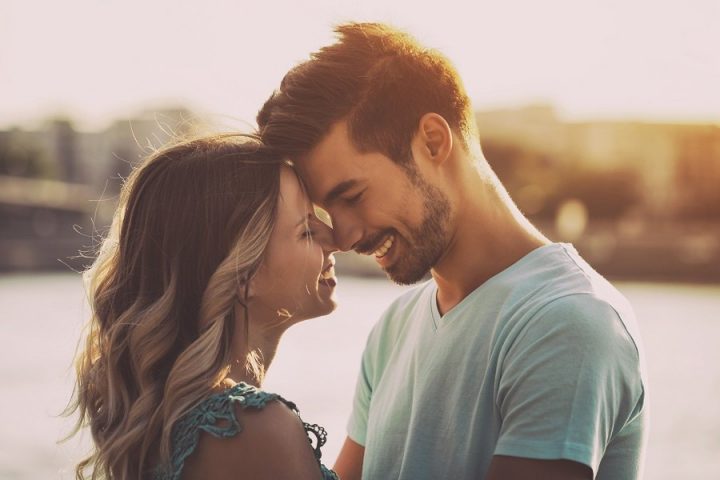 Cost
It depends on the dating site that you use after uDate redirects you. It has a three-day trial period when you can enjoy all the features for free. Then you have to pay. The average cost of using these services is 25 dollars a month. But as you understand, when you buy, for instance, a three-month subscription, you pay less.
Conclusion
On the one hand, the site is interesting since it redirects you to other platforms where you might find what you need. On the other hand, it is difficult to use such a system. Is uDate.com legit? Probably, it is. But uDate dating site reviews are not all positive.
FAQs
Yes, the site requires payments.
Yes, there is a three-day trial.
Yes, you can unsubscribe by adjusting the settings in our account.
Yes, you need to cancel it in your account if you don't want to renew it.
Yes, you need to go to settings and choose "delete profile", the site will ask you to add the reason.