It's amazing how many niche dating apps and sites we can explore. I happened to encounter one interesting platform, a BBWCupid dating site, that caught my attention. It allows plus size singles to meet their soulmates in a safe environment. This website grants all the users different dating features and options. If you want to start dating in your city, you have to create an account and start looking for matches. You can meet love, friends, or just flirt with hot members.
Pros and Cons
Pros
Protected website;
You can see who is online;
Detailed profiles;
Last active function;
Easy to use.
Cons
A disproportion of users (more females);
Verification of identity is not required;
A low number of users.
BBWCupid.com at a Glance
Best for: All singles of plus size who want serious relationships.
The number of members: around 600 thousand.
Recommended age: 25-35.
Favorite features: compatibility and personality tests.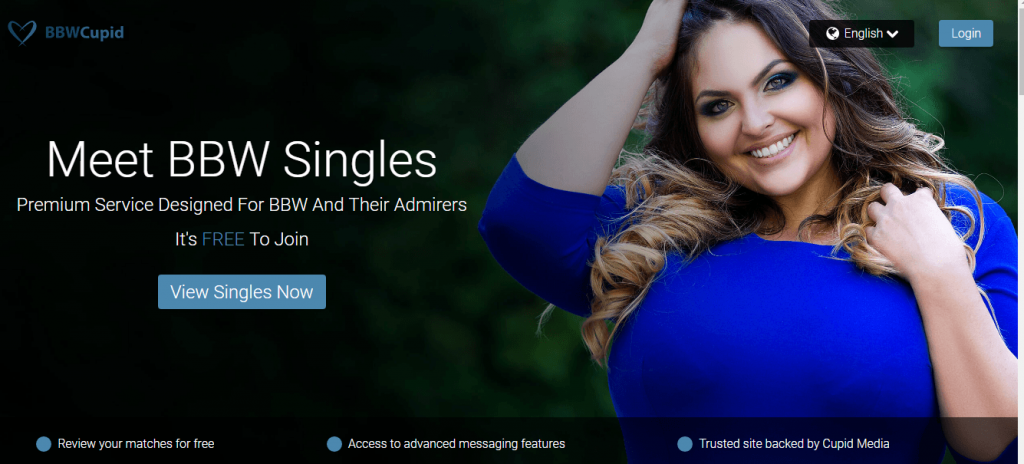 What is BBWCupid
BBWCupid stands for a dating site that caters to the interests of big and beautiful women. That's why it is a "BBW". It caters not only to the interests of women of plus size but also to the interests of men who prefer big and beautiful women. As some BBWCupid.com reviews found on the Internet state, you don't have to be curvy to date here. Some men simply prefer women with curves, but these gentlemen have more muscular bodies, or they are slim.
Even some slim women can find dates here if they prefer plus size men. In general, it is a place for people of all sizes to date, but most users are looking for women on BBWCupid. And there is logic since the site has more women than men. BBWCupid owners affirm that they guarantee a safe environment for everyone. This safety includes a protected platform so no phishing attacks will harm you. And it also means that different trolls, scammers, fake users are getting blocked.
How Does BBWCupid.com work
The truth about BBWCupid and how the site is operating you will find below. I have reviewed different options and the most popular features of this website, and now you can gain a better understanding of how to use the site and what it can offer.
Sign Up
The registration process is simple and standard, it won't even take you a minute. You don't have to enter the zip code of your city, only the mail, your age, your new BBWCupid login (first name), create a password, and you can proceed with creating a more detailed profile, or you can view singles. If you chose that you are a male looking for a female, then you will immediately see different singles on the first page.
After you customize your profile, the website will show you only those users who are more or less similar to you. You have to use the search or to wait for the list of recommendations. These results will be based only on your preferences. One of the things that will catch your attention is that when you proceed with creating a detailed profile and click on a "change" button in the field of month and year of your birth, you will be redirected to a page where you can send a scan of your ID.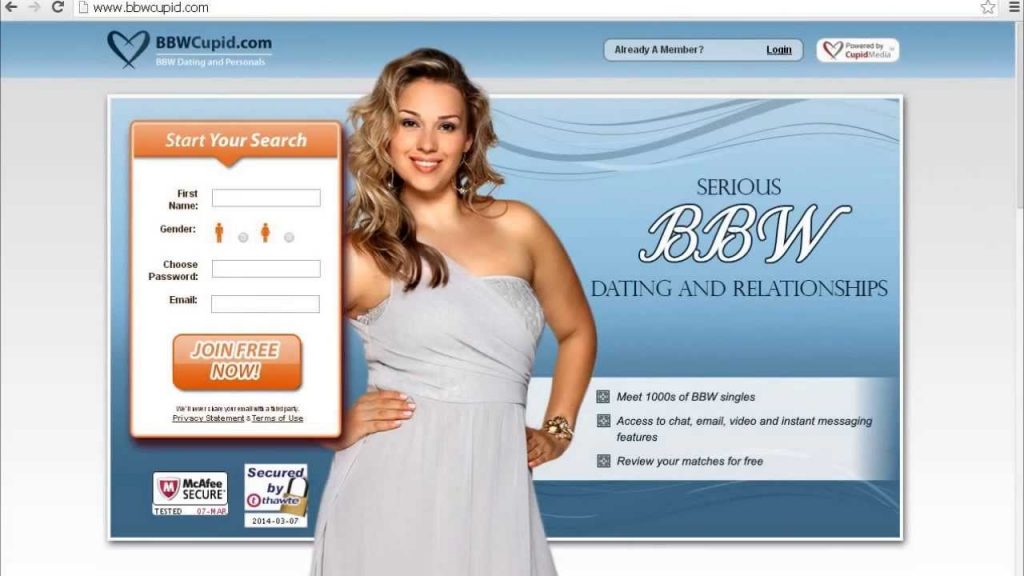 Such a verification process enables better protection of users since all verified users get a special green badge. You can date only members with such green badges and you will be sure that you are communicating with real people. You can skip this process if you don't trust the site yet. You can complete verification any time you want, or you can omit it.
You can customize your profile and add information about your appearance (hair/eye color, body type, ethnicity, etc.), and about your personality and lifestyle (smoker/drinker, do you have children, pets, willing to have more children, etc.). Then you can add info about education, occupation, nationality, what you look for (penpal, marriage, friendship, dating), what languages do you speak, whether you can relocate to another city, etc.
In the end, you can add your own words about your expectations of a future partner, and about your personality. You are limited to around 1200-1300 characters (not words), so tell only things that are really important and catch the attention of other members of BBWCupid.
Search & Profile Quality
The searching tool is very detailed. You can choose from around thirty filters to adjust the search. You can choose who you want to date and his or her appearance, personality, lifestyle, religion, and even political views. These filters grant you the chance of meeting a match near you. You can choose the country and city in which you live, and add the proximity in which your potential match is currently living. The minimal proximity is 50 kilometers, so you can meet someone pretty near.
You can save your search settings and results so that you won't need to insert everything again several times. If you want to try your luck, you can use the search by a Keyword. Just insert such keywords as "loyal" and add some basic criteria, and you will receive interesting results. If you choose a CupidTag, you will see the most popular tags, but this function is not very useful. You can also check out popular searches – "Most popular", "In my area", etc.
The quality of profiles makes you believe that most of the users are real. You can immediately tell whether the photo is real or it was taken from Google search. The profiles on BBWCupid look real and different BBWCupid dating site reviews found on the Internet prove that most people are real. The profiles seem to be detailed, people are willing to tell about their lives and what they expect from future partners.
One of the things that I have noticed during this review of BBWCupid is that you can see in the profile when was the last time the person had logged in. A very useful feature that saves you time. It is common for members of other sites to find someone who seems to be interesting (considering their profiles) but this person is not answering any messages. On BBWCupid you will know who you can contact and who had left the site for good.
Right in the upper part of the profile, you will see the most important information, such as the purpose of creating an account, the proximity, where the person lives, etc. Below you will find information about the person's expectations in his/her own words, and about the personality of a member. Below you will see two columns, the first one cares information about the users, the second is about the preferred partner. You can compare these two columns.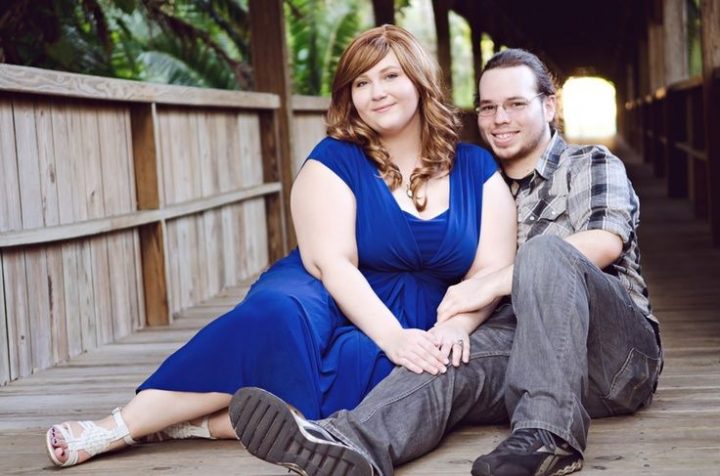 Safety
The first thing that will catch the attention of all users is the page where you log in or register. there is information about protection measures, such as an antivirus system, certificates. The other thing you should pay attention to is that the connection to the Internet is safe, you can tell that since there is a lock near the place where you put the link. You can also read the information about all the certificates of the site by clicking on that lock.
One of the things I have noticed while writing the BBWCupid.com review is that it allows you to verify your profile. You can voluntarily choose to send the scan of your ID and after a short period, you will gain a verification badge. That way people will know that you are real. But not all people choose to use this option. So is BBWCupid safe? It seems that it is, but be careful since you never know what can happen.
Help & Support
If you have some questions or you don't know how to start using the site, or you have other issues, you can use the Help section. Click on the Settings button, you will find different options – from an email address, to log out, there will be a "Help" button, click on it. You will find different sections dedicated to various topics and the most asked questions. Try to find the answer to your problem here, if it's not possible, then you can contact the staff.
If you have some questions that you can find answers to, scroll to the bottom of any page, below you will see a list of different options – About us, Contact us. Click on the contact us button and you will find phone numbers of the staff and the information you need to provide as a user. So is BBWCupid good? yes, it seems like a good site.
Cost
One month will cost you 25 dollars, but if you want to gain a small discount, it's better to purchase a 6 or even 12 months subscription.
Conclusion
So is BBWCupid.com legit? Yes, the site is legit and it is worthy of your attention. But it seems that there are not so many users as you would hope.
FAQs
No, you have to pay to use the site.
Yes, you need to go to settings and choose the reason why you are leaving.
No, it's not.
you can call them, emails are not available.
If you decide to leave the site, make sure you cancel the membership renewal in settings. Don't just delete your credit card information, cancel the membership renewal.