PinalLove.com is a dating platform that is famous for mainly Filipino girls, ladyboys and foreign men from different parts of the world who seek  Filipina dates. You have the option to choose the people you are targeting whether it is the ladyboys or the female Filipino singles. You simply have to click on the tabs on the top area then proceed to create your profile.  On this site, it is easy to identify, navigate and connect with a potential match. Still, there is work to be done and unless you understand the site you won't achieve much. Here is a detailed PinaLove review that you will love.
Other Popular Dating Sites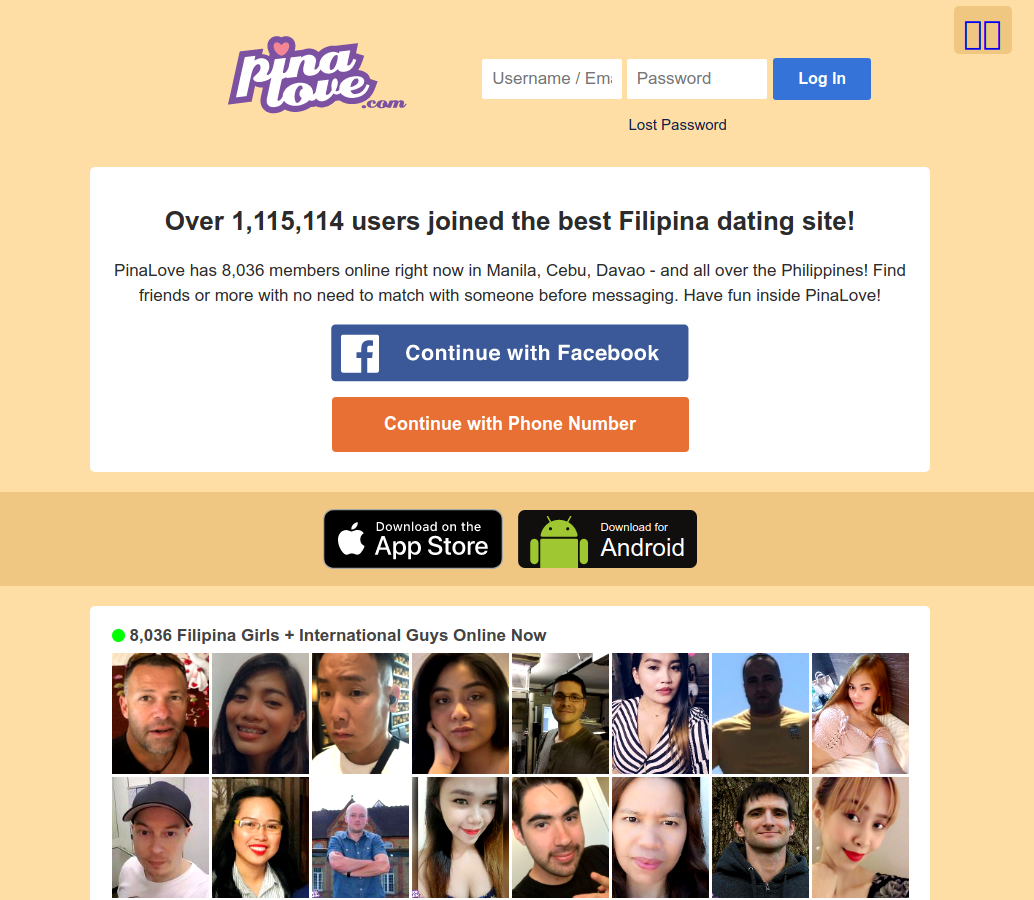 Pros and Cons
Like with all dating sites this one too has its pros and cons and they are as follows:
Pros
A huge number of new signups on the site daily.
Real and genuine profiles of women who are active members
You have the option to block all the ladyboys and other men from viewing your profile.
Free message available every ten minutes.
Cheap prices for a premium membership with zero hidden costs.
 Cons
Premium membership required to access all the best features available.
Hard to find a serious woman for a wife or marriage as most of them want casual relationships.
A security concern where the site does not verify emails on the signups.
About PinaLove
This is a site that is exclusively for Filipino women and ladyboys. According to Other PinaLove reviews, it is said that majority of the members here are between the ages of 25 to 34 years old. The others are between the ages of 18 to  24 and others of 35 to 44. The members of this site are growing and foreign men from countries like United States, United Kingdom, Australia, and Germany are signed up. It is a site where you can choose whether you want to have a short term casual hookup or a meaningful long-term relationship.
Users who just want to hook up for sex are known to be quite outspoken about it and indicate boldly on their profiles. At first glance, you will think that this site is for men and women dating. However, there is a whole hoard of the ladyboys as well who are very active users. So we can comfortably conclude that it is a site for both straight and LGBTQ singles.
Sign Up

Registering on PinaLove is quick and easy. It will take you only 2 minutes and all you need is your basic information.  You will need a username, a password, an email address and you will also need to indicate gender and your dating preferences. Other things like birthday, height and weight will also feature and what even makes the process very easy is that you will not need to verify your email to proceed to explore the site and check out the beautiful singles. After you rate your fluency in speaking Filipino and personalize your profile with some personal description of yourself, you are good to go. You can then proceed to meet all the available singles on the site and have fun.
Visit Site
Visit Site
Visit Site
Search
Most profiles on PinaLove are genuine and detailed there is no room for fake profiles. When you get interested in a profile all you need to do is click the profile photo and all her details will come up. You also get to see any other photos that the member has uploaded. Most users on this site are encouraged to update their profile details as much as possible for easy search.  Members can such for potential mates through the profile information something that simplifies the search process.
This is why you will find most profiles updated with information such as occupation, favorite books, music, income, interests, favorite films, and religion. Users are also encouraged to upload several photos to have attractive profiles for potential matches. It will not cost you anything to upload photos, update your profile and check out other potential profiles.  PinaLove will also remind you to maintain decorum on your profile because overly sexual profiles have been known to be deleted.
Features
Navigating on this site is easy because everything is well located and the overall design is simple. After you, login/sign in you encounter the features on this site which make your dating experience better and fun.  You can keep track of all the potential members that you happen to be interested in. Some of the useful features on this site that will make your experience worthwhile are as follows:
Visited Me, Interested In Me, Favorited Me
My Visits
My Interests
Favorites
Notes
Saved Photos
From their names, you can easily tell their use.
Safety
PinaLove is a safe site to use and the fact that it is being run by the reputed Oxixo Private Limited and tracks all site activity including information such as access times and the browser profiles for all members. By tracking such information they filter out any fake profiles and scam activity on the site. Any accounts found not to be legit are immediately banned. Users are also encouraged to report any suspicious profile by contacting support. However, there is concern over the lack of email verification which makes it easy to create many fake accounts.
Prices & Plans
There are services on this site that are free while others require upgraded membership.  The services are as follows:
Free Services
Registration
Sending interest and favorites
Viewing photos and profiles
1 message per 10 minutes
Unlimited photo uploading
Charged Services
Unlimited messaging
Profile Exposure
Read Receipts
Access to popular members
Live chatting with premium members
Members can subscribe to paid plans by making payment through Credit Card,  Paypal, and bitcoin. Members can opt for a 1-month or 3-month subscription that comes with auto-renew features. You can also end the membership autorenewal option anytime you wish to. The 1-month membership goes for 24.95usd, the 3-month goes for 16.65usd per month and there is a 6-month one goes for 11.66usd per month. In the end, it is up to you and your budget to decide how long you will need to be an active member of the site.
Customer Support
The customer support on this site is efficient and some much as you might want your issues solved immediately,  most of them will be tackled within 24 hours. However, when there are matters concerning the security of its members,  the issues are usually dealt within the shortest time and not after 24 hours of reporting them.
Conclusion
PinaLove is an amazing and genuine dating site that has this feel of a social networking site. Its simple design and features make it worth signing up to if you don't mind the few drawbacks such as a limited messaging feature and the few serious singles for marriage. If you are looking for a serious long-term relationship you will have to be a little more patient.